From custom one-of-a-kind projects, to comprehensive brand conversions and multi-location signage campaigns, you can count on our attention to detail to protect your brand standards and our sign expertise to achieve your marketing goals.
Please meet members of our client service and executive team below.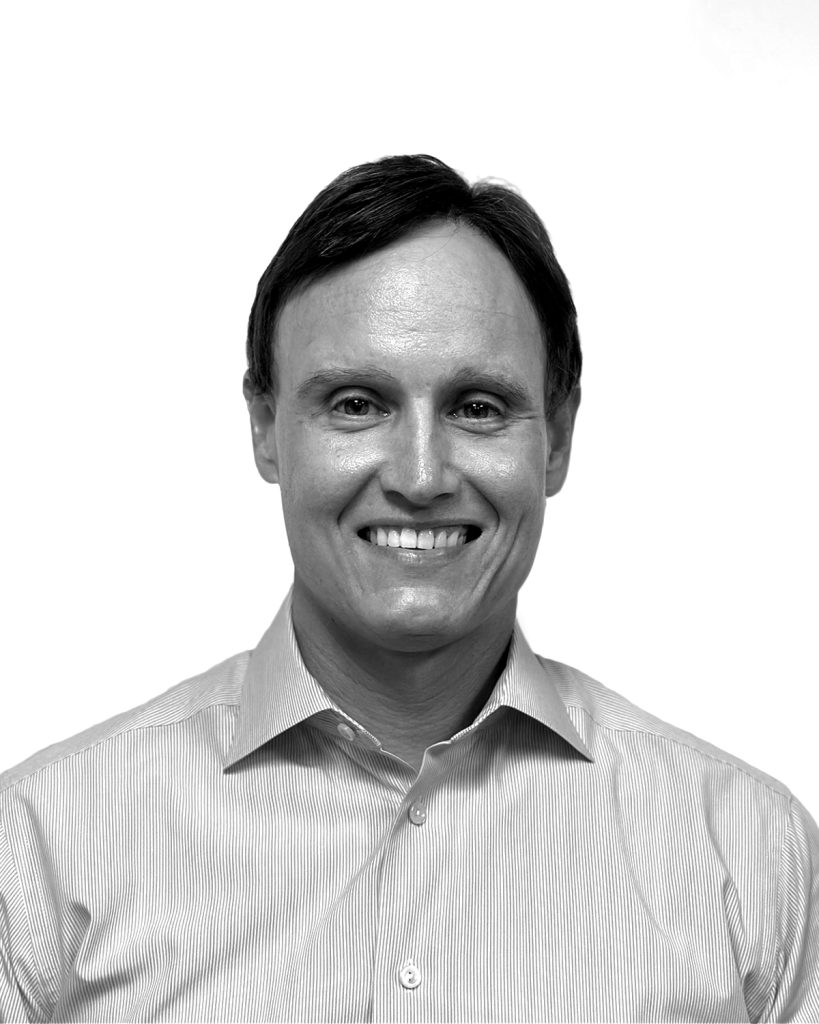 Brad Osleger
Chief Executive Officer
Raised locally, Brad earned a bachelor's degree in Finance from Emory University's Goizueta School of Business and an MBA from Rollins College. Having joined the OnSight team in 2007, Brad works with our management team to help provide strategic direction for the company and lay the foundation for continued geographic expansion. In his free time, Brad enjoys fishing and spending time with his family.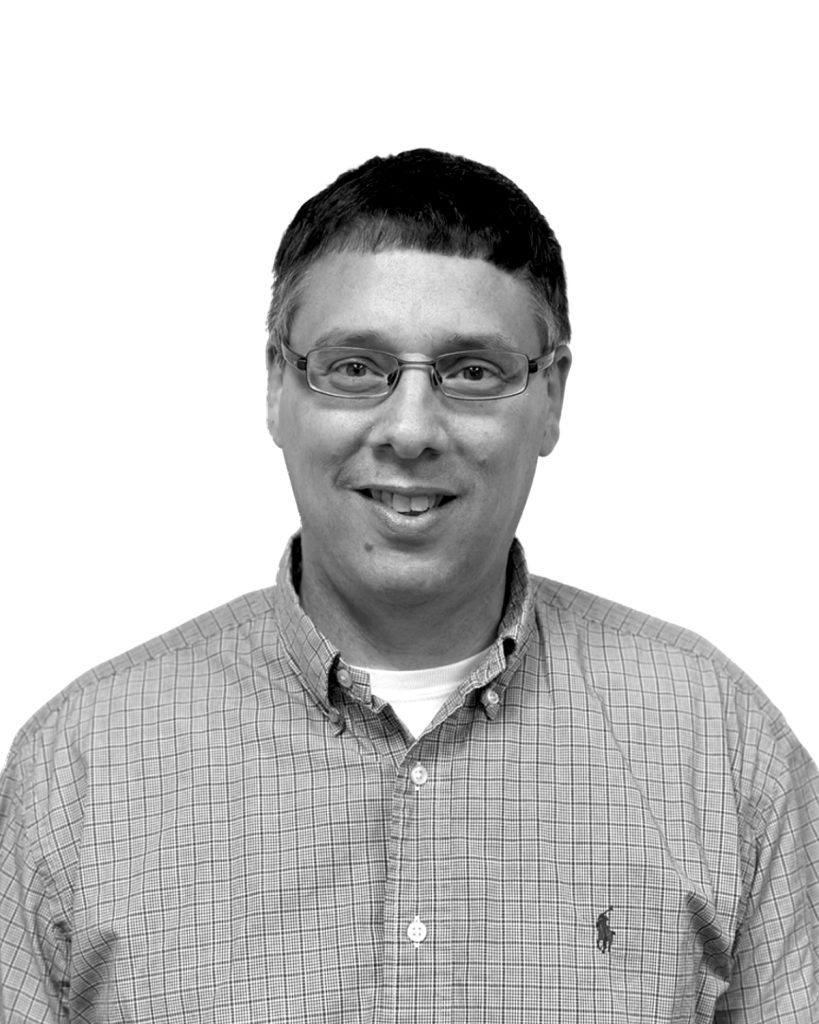 Louis Sedivy
Chief Financial Officer
Born in Chicago, Louis was raised in Atlanta, graduating from Georgia Tech. Louis headed back to Illinois and got a Master's in Accountancy from the University of Illinois. He has spent nearly his entire career in print manufacturing, including CFO. His family purchased a home in Winter Garden fall of 2020. They enjoy going to national parks and hiking. Louis has been to 49 states with only Alaska remaining. Sadly, he continues to root for the Bears and Blackhawks.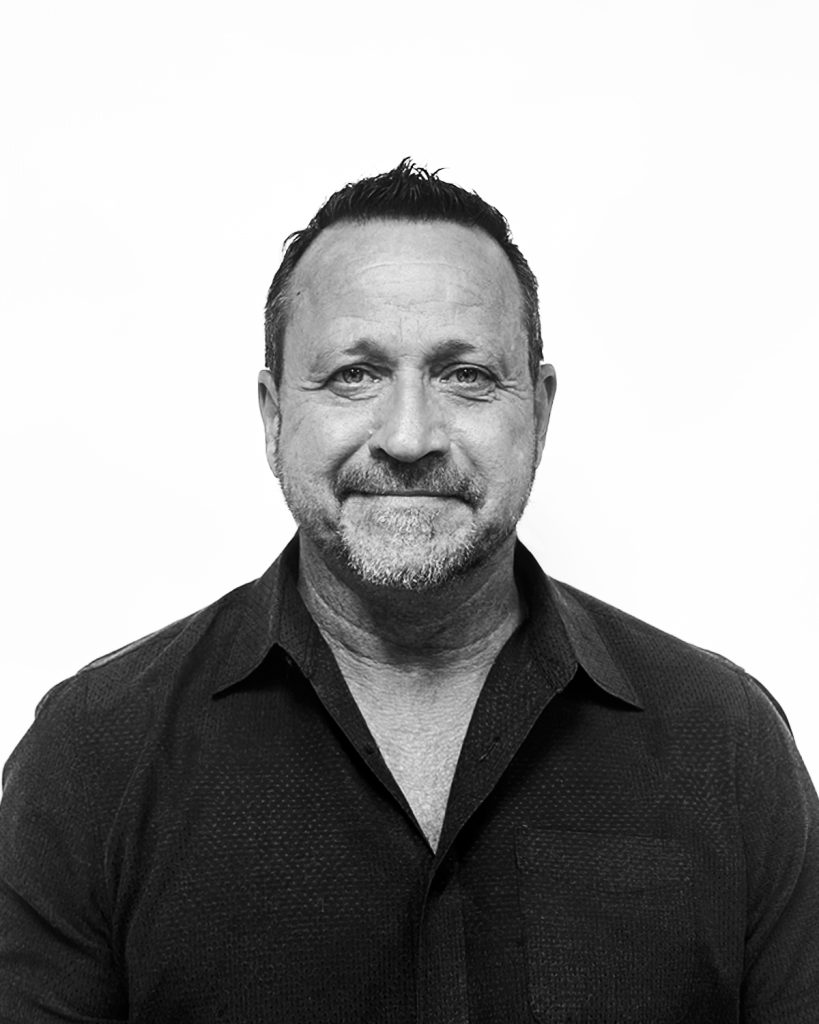 Gene Sanderfield
Director of Sales
Before joining the OnSight team in early 2013, Gene's career was spent building brands in the out-of-home and broadcast advertising world. Born and raised in Iowa (corn not potatoes!), he moved to sunny Florida as soon as he could afford a car! Making your business grow is what Gene is all about. Away from work, Gene enjoys spending time with his family, running (slowly), and rooting for anything Orange & Blue (Chomp!).
Ben Scott
Director of Operations
A card-carrying Florida native, Ben was born in Winter Park and raised in Sanford. He graduated from Seminole State College with degrees in Criminal Justice and Construction. Ben joined the OnSight team in late 2013 after more than a decade of purchasing and operations management experience with two Central Florida-based manufacturers. In his free time, Ben loves boating, car racing, motorcycling and pretty much anything with an engine that roars. Oh, boy!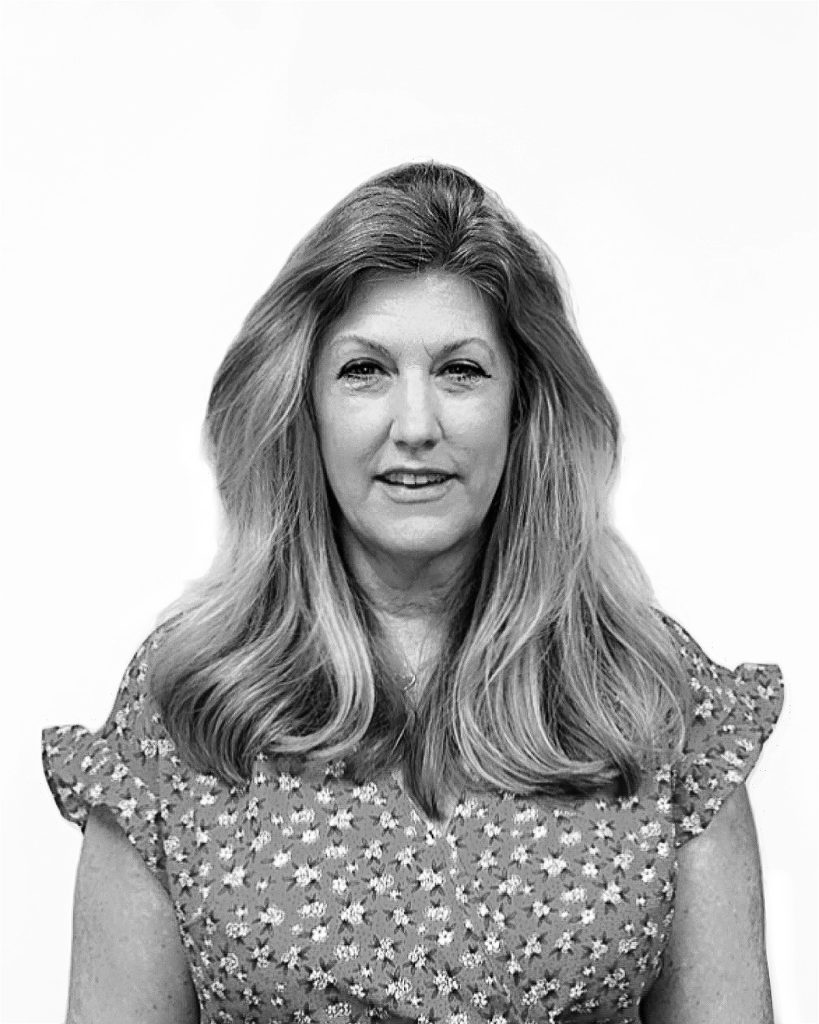 Caroline Kennerly
Director of HR & Office Manager
Caroline previously served as Vice President of Operations at an executive search firm and as Administrative Manager at a medical credentialing company. OnSight welcomed her to its team in 2012, being impressed by both her vast management experience and amazing talent for herding cats. In her downtime, Caroline enjoys spending time with her family, playing tennis, reading, gardening and searching for artifacts in unknown parts of the world.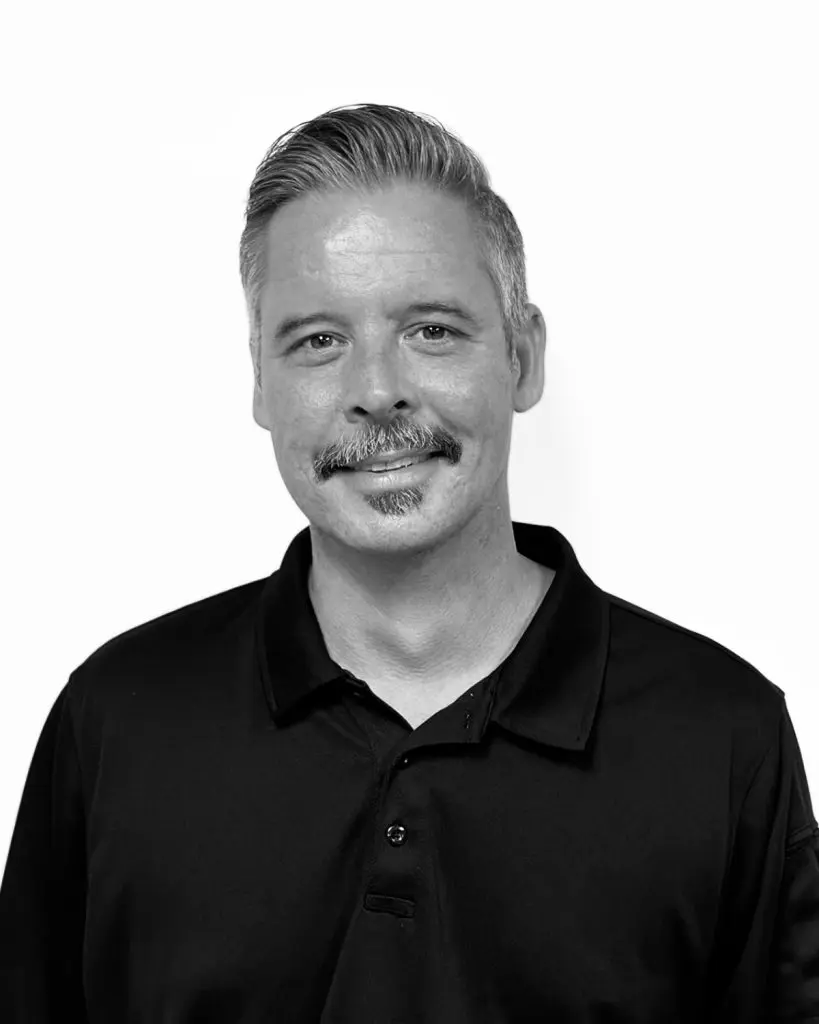 Torrey Hull
Production Manager
Born and raised in Orlando with deep roots in the local community, Torrey has been a key member of the OnSight team since 2007. Having owned and operated a sign company prior to his tenure at OnSight, Torrey has a deep knowledge of the visual marketing industry and an appreciation for high quality work. An avid archer and fisherman, Torrey enjoys spending his free time outdoors with his family and friends.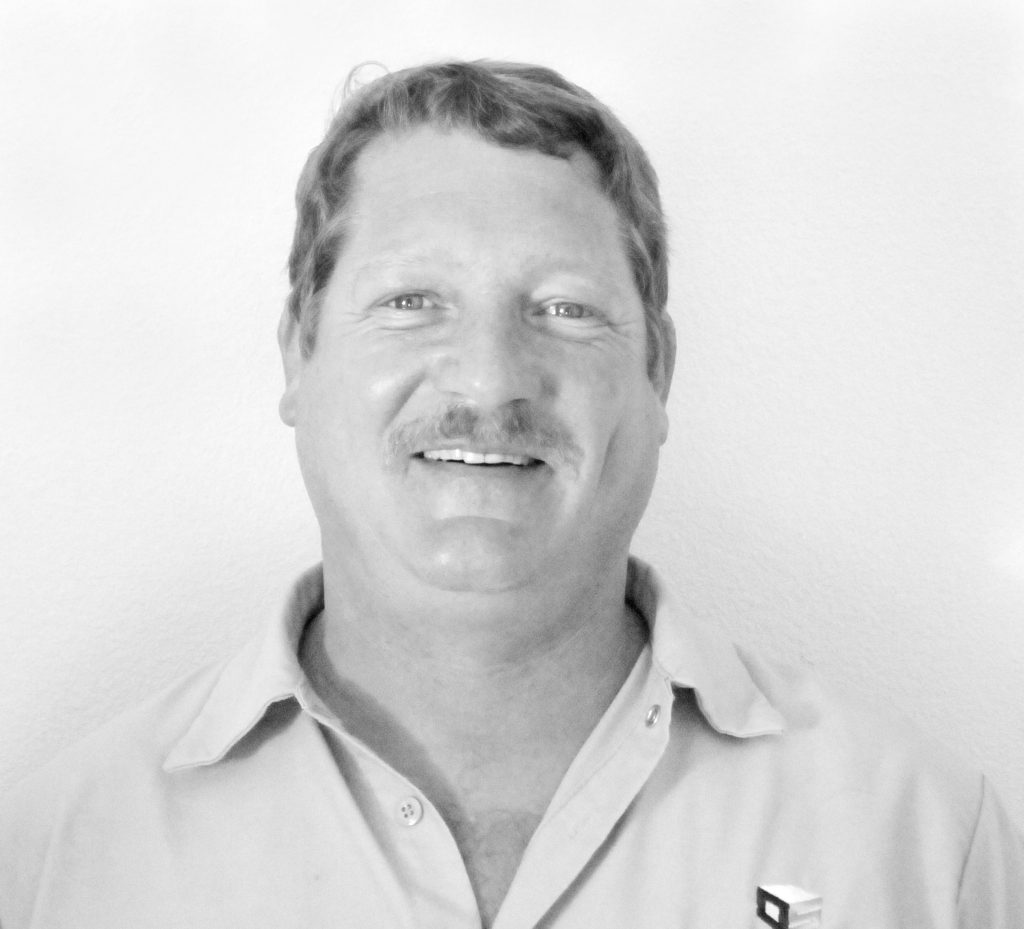 Kevin Bowdish
General Manager - Tampa
Born and raised in southwest Michigan, Kevin moved to the Tampa area in 2009 to be closer to family. His background in building and installing large monument signs, score boards, LED video displays and traditional post-and-panel signage made him a natural fit with OnSight in 2010. Relying on his Cosmic Awareness super power, the company quickly identified Kevin as the obvious choice to manage the Tampa facility. Kevin's hobbies include muscle cars, motorcycles and fishing.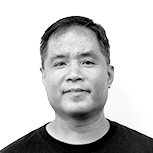 Lito Reynoso
General Manager - Nashville
How did Lito end up in Nashville after growing up in Melbourne, FL, and attending the Art Institute of Ft. Lauderdale to study photography? Well, he put his degree to work in professional photo labs, a profession that morphed into independent sign installation. OnSight was happy when Lito joined our team in 2014, bringing a tireless work ethic, an acute attention to detail and relentless drive for servicing our clients. When the Nashville expansion was announced, Lito successfully completed our training program then volunteered to become a Volunteer transplant. On his own time, he's a Karaoke King and enjoys shooting pool with his friends. He also harbors a secret recipe for killer Philippine BBQ.
Tony Eastwood
General Manager - Jacksonville
Tony comes from the Cereal Capital of the World: Battle Creek, Michigan, where the wheat is mini and the nuts are grape. He shaped his winning career in the building and construction industries by exceling at all levels, achieving his clients' goals and continually fueling his desire to be the best racing motorcycles professionally. Tony and his family eventually made their way to Florida, and in late 2014, OnSight welcomed him to the position of General Manager of the Jacksonville facility where he strives to make us the client's one-stop-shop. When he's got time, he enjoys cooking (and eating) delicious meals, binge-watching TV, woodworking and frosting flakes.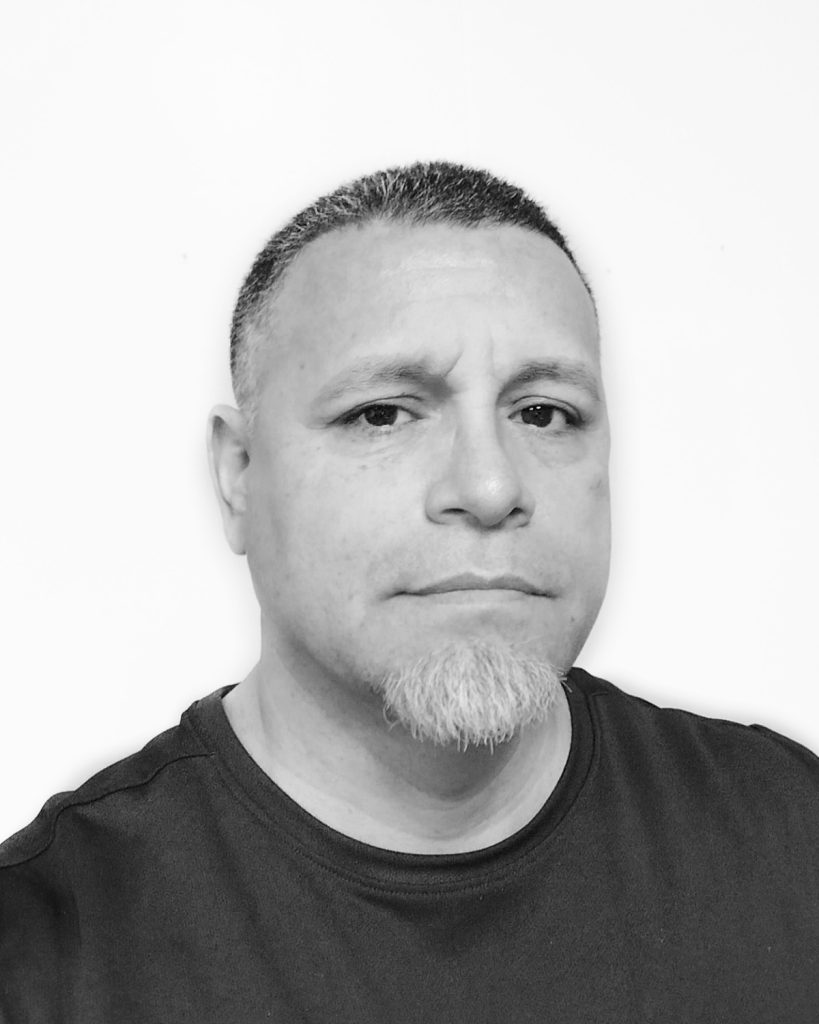 Eysacc Saucedo
General Manager - Dallas
Dallas is where he grew up and Dallas is where he's gonna stay. Eysacc studied Information Technology at a local community college before becoming a foreman for a local sign installation crew. After killing it on OnSight's installation team, Eysacc was a natural fit to take over as GM of the Dallas location, leading the group with commitment to OnSight's mission and determination to do the job right. He stays busy outside of his day-to-day by bringin' it to the gym each morning, spending lots of quality time with his granddaughter Nelly (fishing, coaching, cookouts) and volunteering as the church handyman. His creed to live by: Live for every moment, Laugh every day and Love beyond words. Living life bigger in Texas.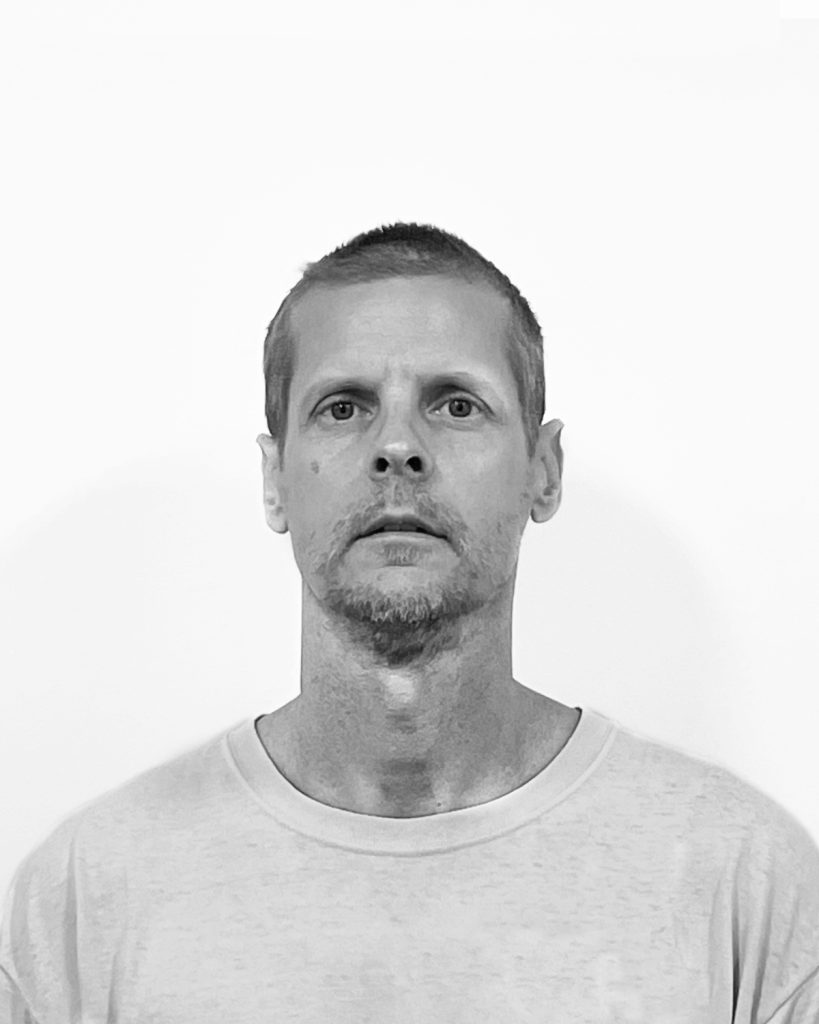 Robert Ocker
General Manager - Houston
Robert grew up on South Padre Island, surfing the best waves Texas has to offer. He temporarily hung up his baggies to attend UT Brownsville to study Computer Science, then one night, he jumped a bomb wave and washed ashore on Florida's beaches. OnSight picked him up in 2015 and dropped him in the soup. With our Houston expansion, Robert was eager to bury his feet back in the sand of his childhood. When he's not busy at work, he's stoked to do some target shooting and mountain biking.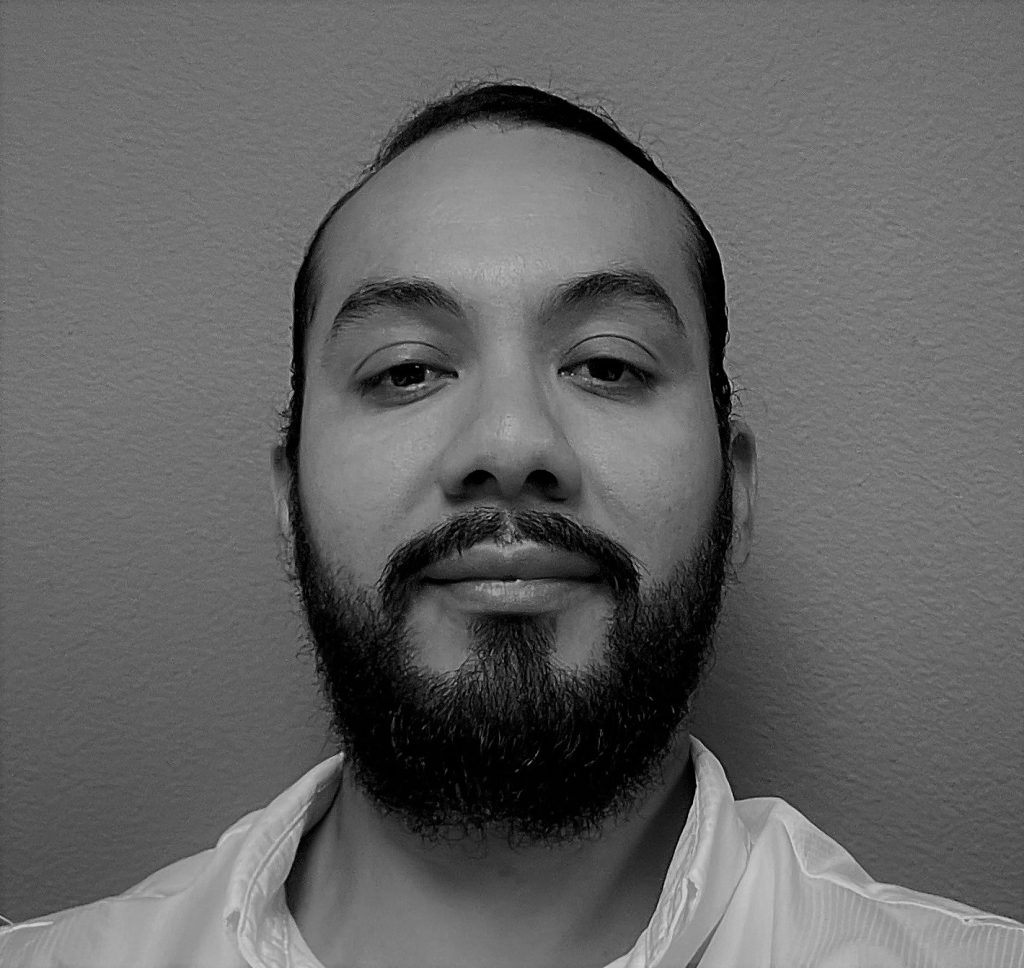 Miguel Gonzales
General Manager - South Florida
Miguel is a guitar-playing, soccer-loving South Florida guy who brings positivity and energy into every circumstance. He thrives in challenging situations and believes in giving his all at all times. Miguel enjoys turning obstacles into valuable learning opportunities and developing innovative ideas that allow his crew to work smarter, more efficiently, and safely.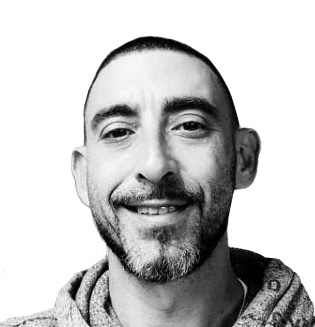 Juan Perez
General Manager - Atlanta
Juan was born and raised in Brooklyn, New York. After completing high school, he moved to Florida, where he gained a love for canoeing, biking, and traveling. In his late teen years, Juan was allowed the opportunity to work with a class A contractor, where he earned a vast knowledge of carpentry, restorations, additions, and structural, interior, and exterior repairs. Since 2014, Juan has worked his way through the OnSight ladder, beginning as an Installer and transitioning into a Production/Installation Specialist, which led to a promotion to Atlanta's General Manager.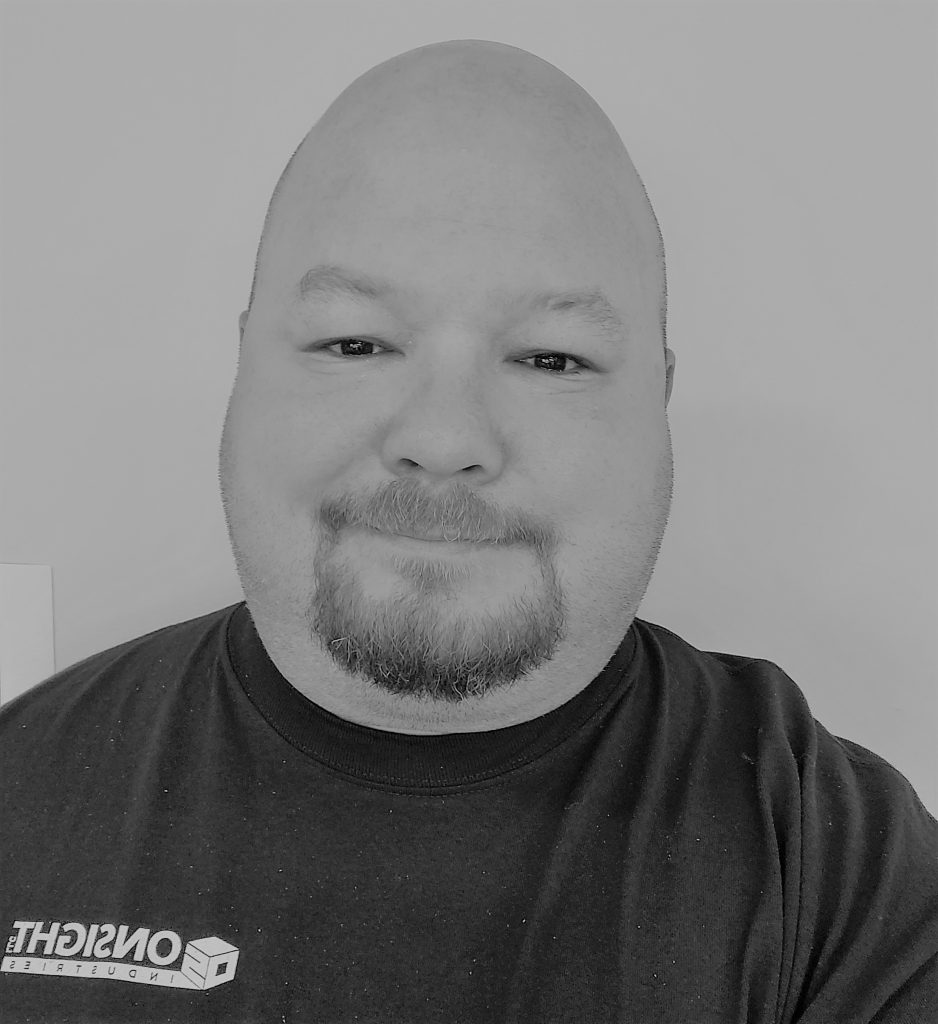 Jackson Bordeaux
General Manager - Charlotte
Jackson is a North Carolina native who enjoys fishing, BBQing, and spending time with his wife and two kids. As the son of a preacher, he was taught to fight for justice, leading to a long-time career as a Sheriff, DEA Agent, and Homeland Security Officer. After making a career transition, Jackson worked in construction management, developing skills in concrete and carpentry, which are essential to OnSight's quality standards.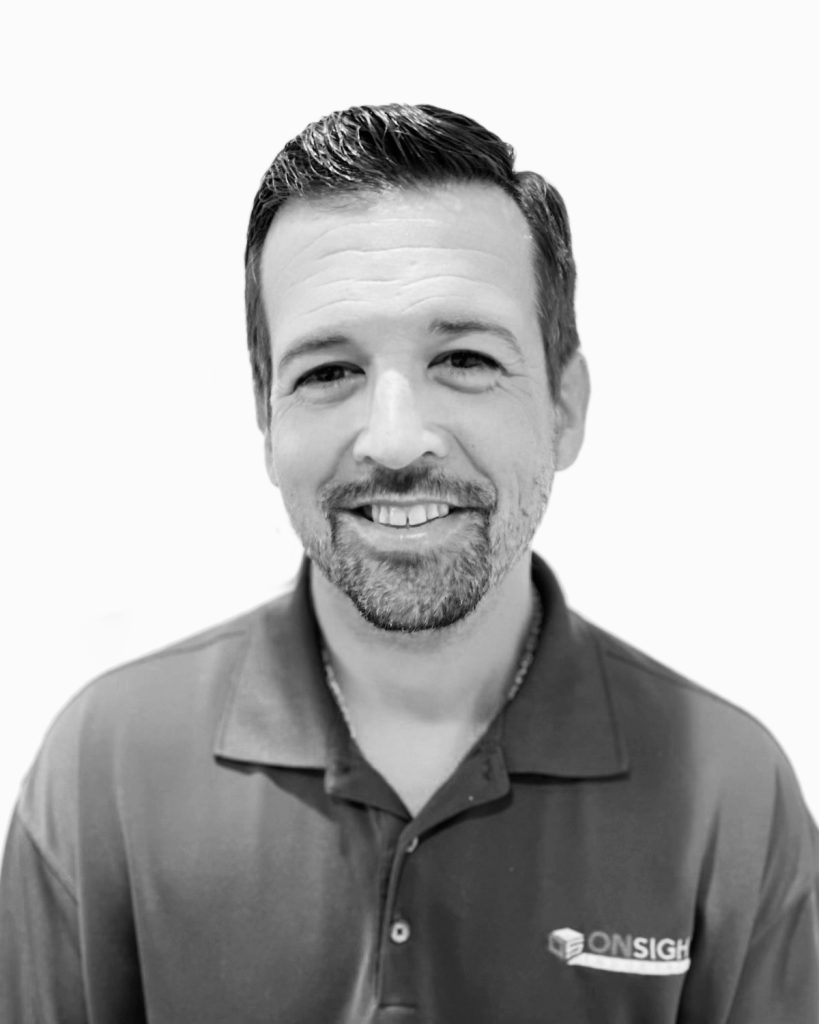 Ron Silveira
Account Manager
Born with a proposal in his hand just outside of Boston, Ron grew up in Orlando, and went on to earn an Advertising degree from the University of Florida. With over 17 years of offset and digital printing experience, he uses his extensive industry background to help clients solve their most challenging visual marketing projects. OnSight was pleased to add Ron to its roster in early 2007, eventually moving him from the Central Florida market to the booming Tampa market. He's always on call—there is no job too big or too small in Ron's kingdom! He spends his free time fishing, Scuba diving and relaxing with his wife and kids at the beach.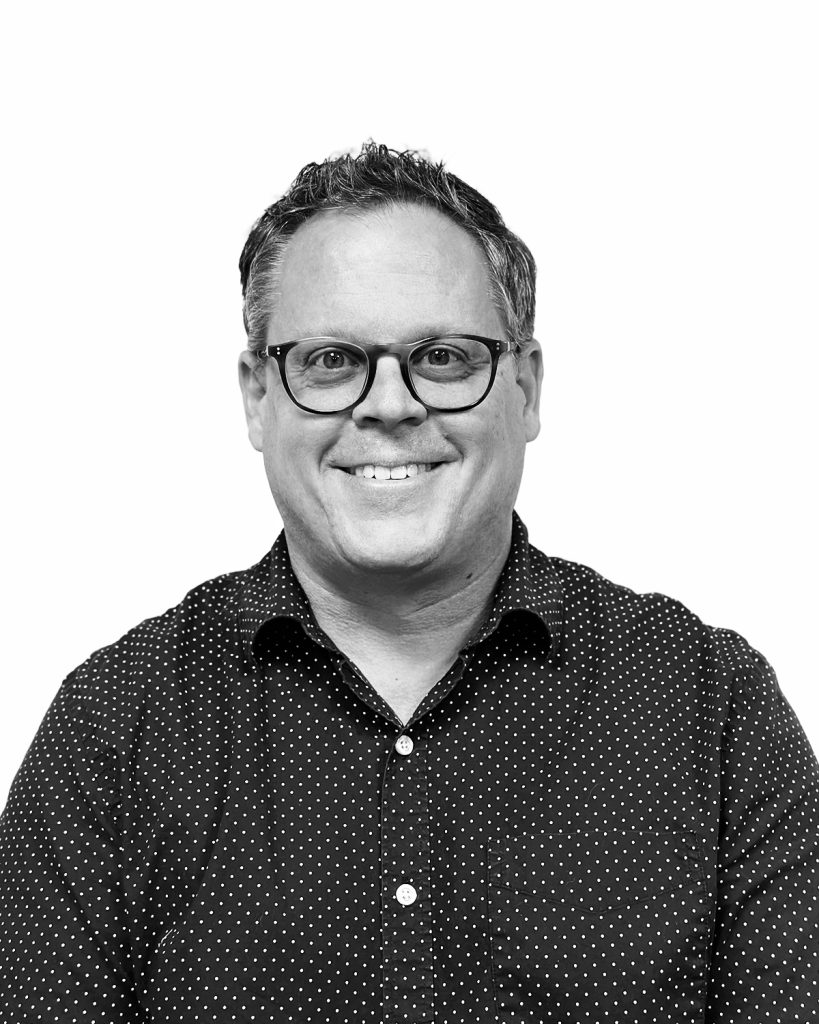 Darren Uner
Account Manager - Central Florida
Originally from a farming town in Illinois, Darren spent his high school years in North Carolina, before coming to Florida, to attend the University of Florida where he graduated with a degree in Business Administration. He has been an integral member of the OnSight team since 1996 (a long time ago). A self-proclaimed out-of-the-box thinker, Darren takes pride in exceeding client expectations and growing the business through building trust and providing innovative solutions. Darren enjoys brewing his own beer and cooking fabulous food on the smoker for his family and friends. He burns off the calories with his bicycle. He also likes to spend time with his family roaming the hallowed halls of his castle home built by well-known architect Walt Disney.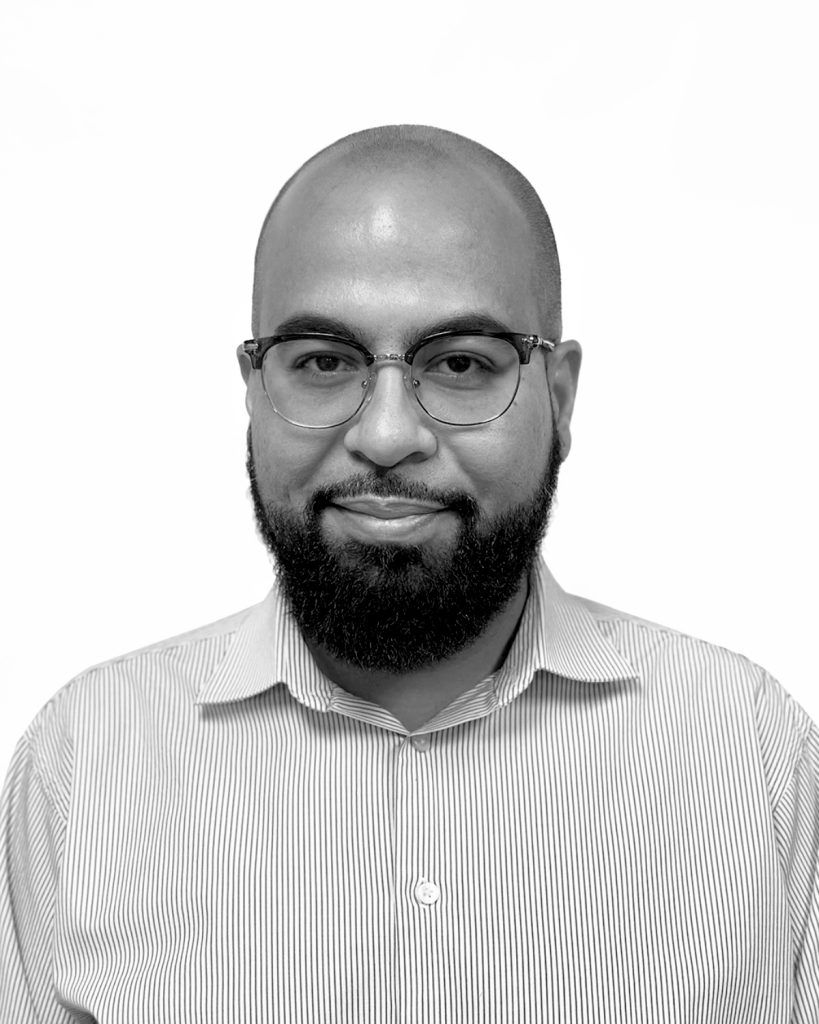 Javier Fonseca
Art Director
Born and raised in Puerto Rico— "Wepa!"—Javier went to the University of Puerto Rico School of Architecture where he got a bachelor's degree in Environmental Design. Having a background in architectural design helps him understand how things are built—knowledge that is translated into every design he works on. With extensive experience in interior and graphic design for marketing and advertising campaigns, Javier was a natural fit for the Art Director position. He loves food (who doesn't) music, art and woodworking (has built a thing or two). His best day is either walking through a museum or cutting wood (once or twice) to build something. His motto: measure twice, cut once.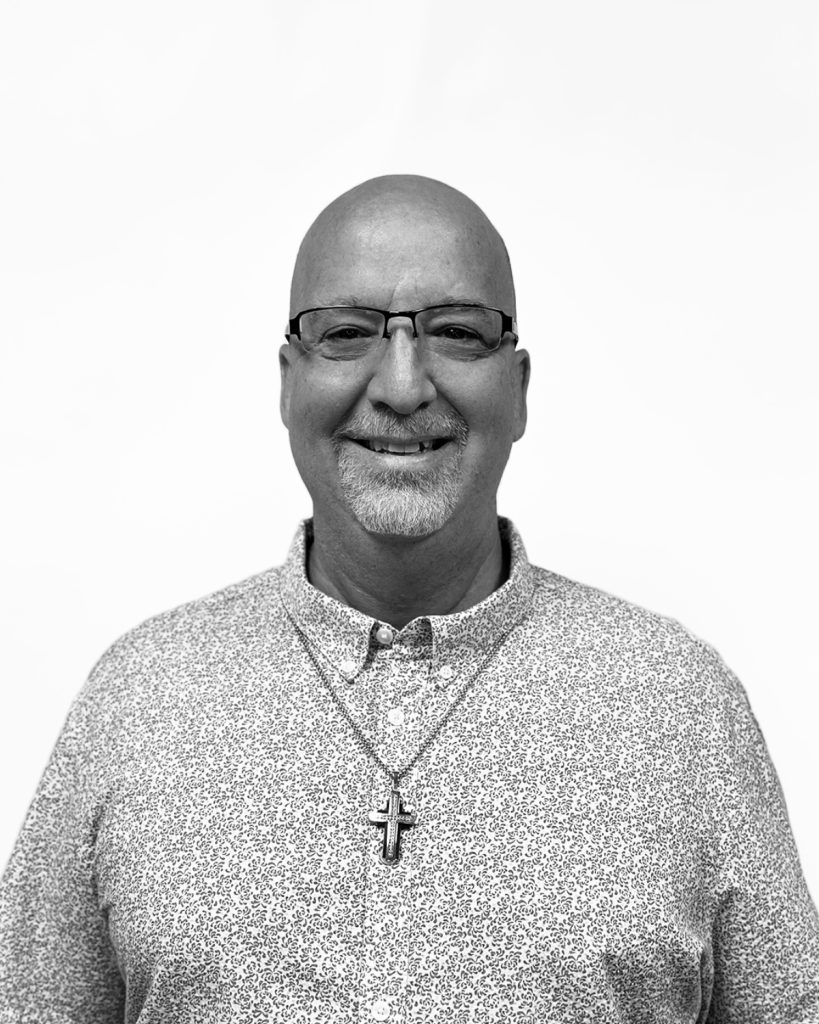 Shane Austin
Account Manager
Shane hails from a small town in Indiana. He attended Ball State University where he took classes in the David Letterman Communication and Media Building, ultimately receiving B.S. degrees in both Sales Management and Audio Video Production. Shane spent the next 25 years in sales and advertising. He came to OnSight in mid-2016 with an eagerness for matching client needs to the right product and delivering top-notch service. Outside of work, Shane enjoys spending time with his family, participating in church activities, watching sports and teaching his dog stupid pet tricks.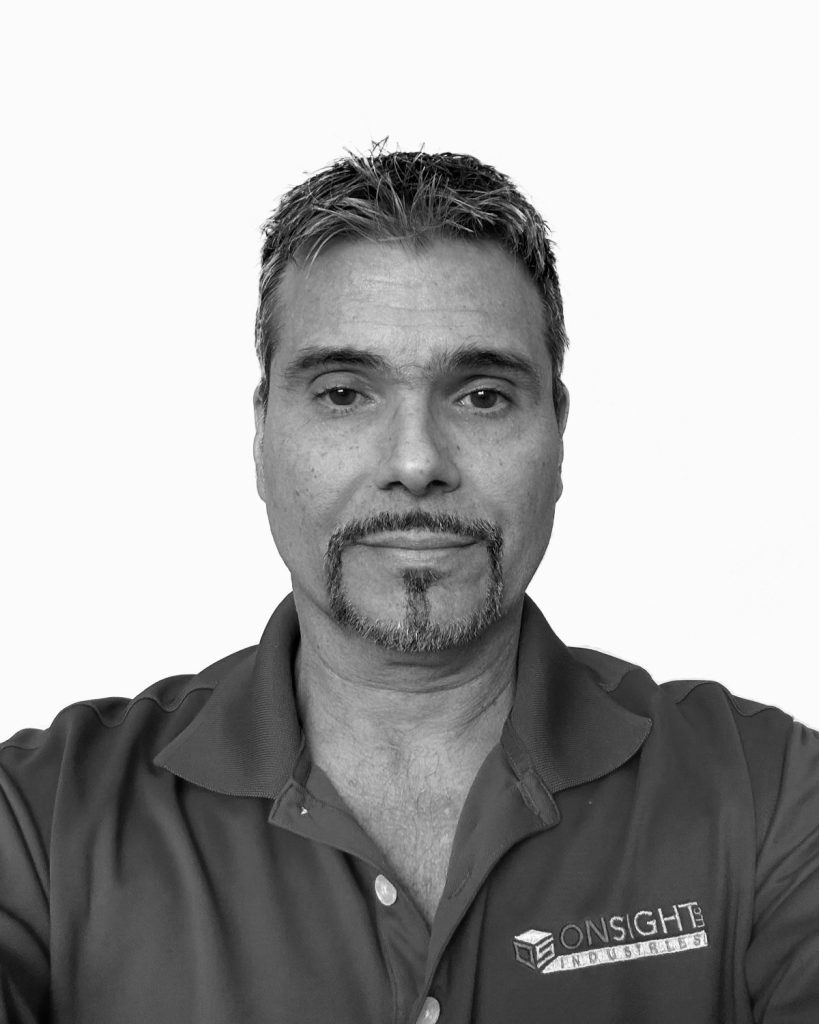 Dan Kristoff
Account Manager
Born in Steelton, PA, with a rare BG+ blood type (Black and Gold—GO STEELERS!), Dan's family moved when his dad's company expanded to the Jacksonville area. Dan went on to play basketball in school despite his sensible 5'10" frame. After a successful career in pharmaceutical sales, he came to OnSight in early 2018, with a vision for growth in the Jacksonville market. And, boy, he loves his job! When he's not tracking down leads, Dan enjoys exercising at the gym, playing in an indoor basketball league and spending time with family and friends. He holds a special place in his heart for watching football/basketball and suspense/thriller/espionage movies.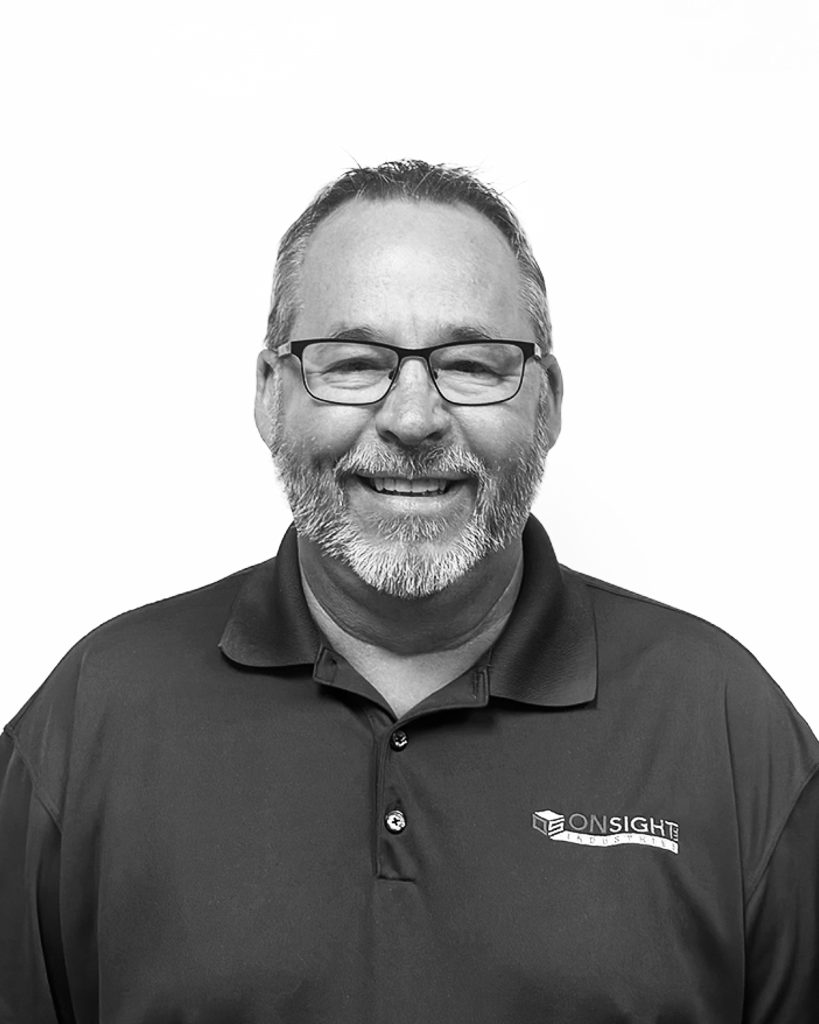 Steve Keena
Account Manager
Steve is from Missou-rah where he attended Southwest Missou-rah State University, studying Business and Accounting. After spending the last 19 years in the mortgage industry, he became a sort of loan wolf, eventually losing interest in the noncents and setting out for some change. That's when OnSight recognized his assets and closed the deal. The truth is, Steve brings an earnestness to his business transactions and an eagerness to deliver client satisfaction. In his spare time, you may catch Steve with his wife riding his Harley . . . that is, if he's not playing hockey or cheering on one of his two daughters at competition.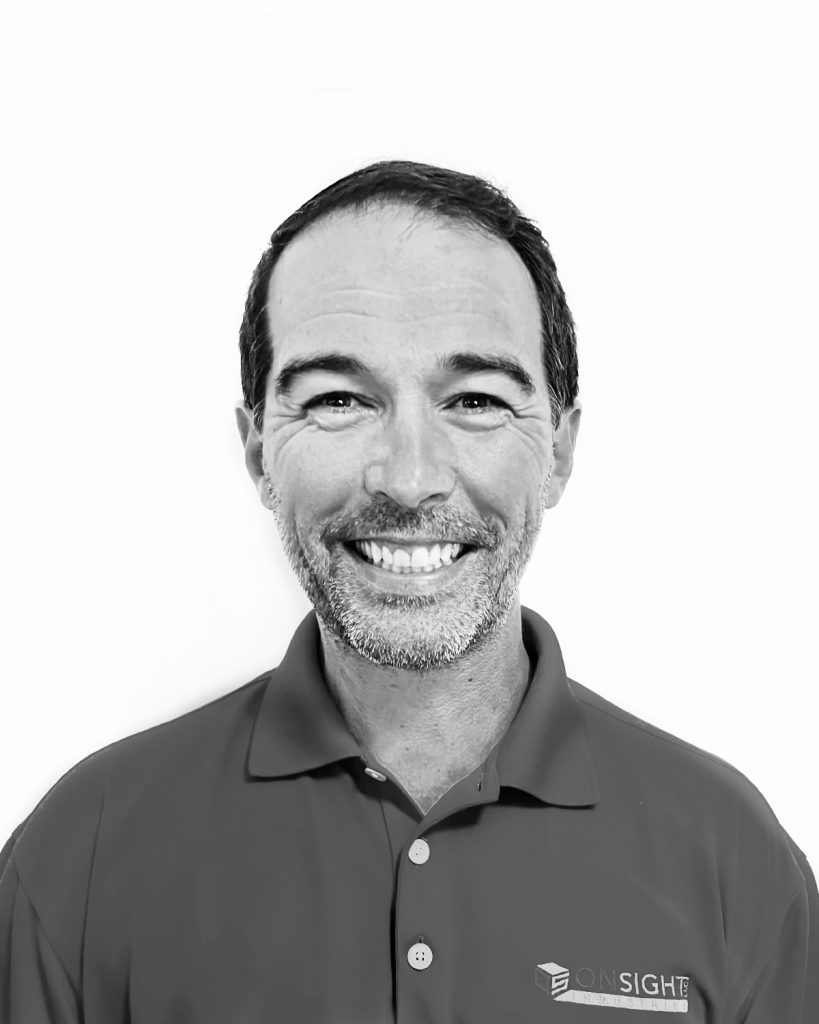 Chris Silveira
Account Manager
You may call Chris a Washingtonian (born in Tacoma) or a New Englander (raised in Plymouth, MA) or a transplant (currently lives on Florida's West Coast). We affectionately call him the New Guy. He's a proud alum of UF's Gator Nation where he earned his Bachelor's in Advertising. And while Chris brags about being the first Woody Woodpecker for Universal Orlando, it was his sales acumen and not his maniacal laugh that caught OnSight's attention. He delivers customer service imbued with integrity and kindness, acknowledging that you buy things from people you like. Off the clock, you'll find Chris loving on his wife, two kids and Beagle, as well as fishing, boating or pretty much anything ocean related.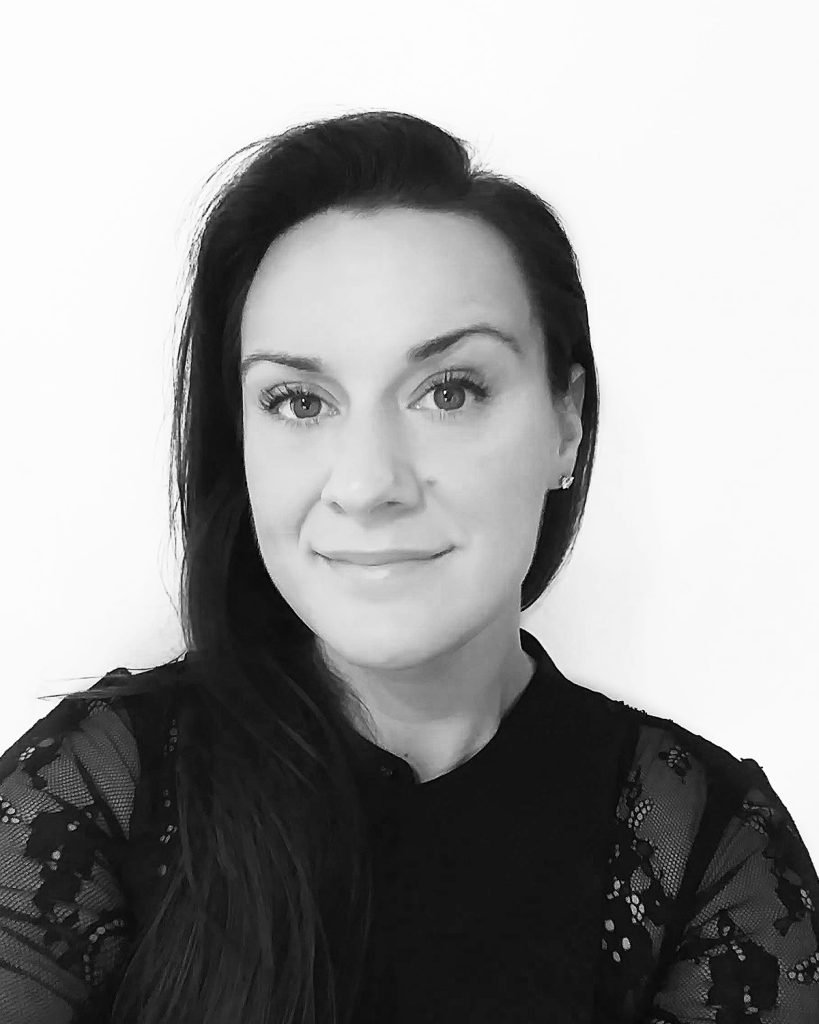 Sarah Nettles
Account Manager
Sarah Nettles never needed to look further than her backyard in Sanford, Florida, to live the good life. Born and raised in the small city that boasts as gateway to the St. Johns River, Sarah is a local celebrity known for her legendary fishing and camping excursions that mix the rugged outdoors with the genteel hobby of gourmet baking. Add to that her cultivated talent for negotiating sales contracts and securing finance terms and you've got a recipe for success. She boarded the OnSight boat in early 2019 with an eagerness to bring solutions to land developers and home builders. When she's not busy filming episodes of Nettles' Vittles, she enjoys being mother to her beautiful, exuberant son.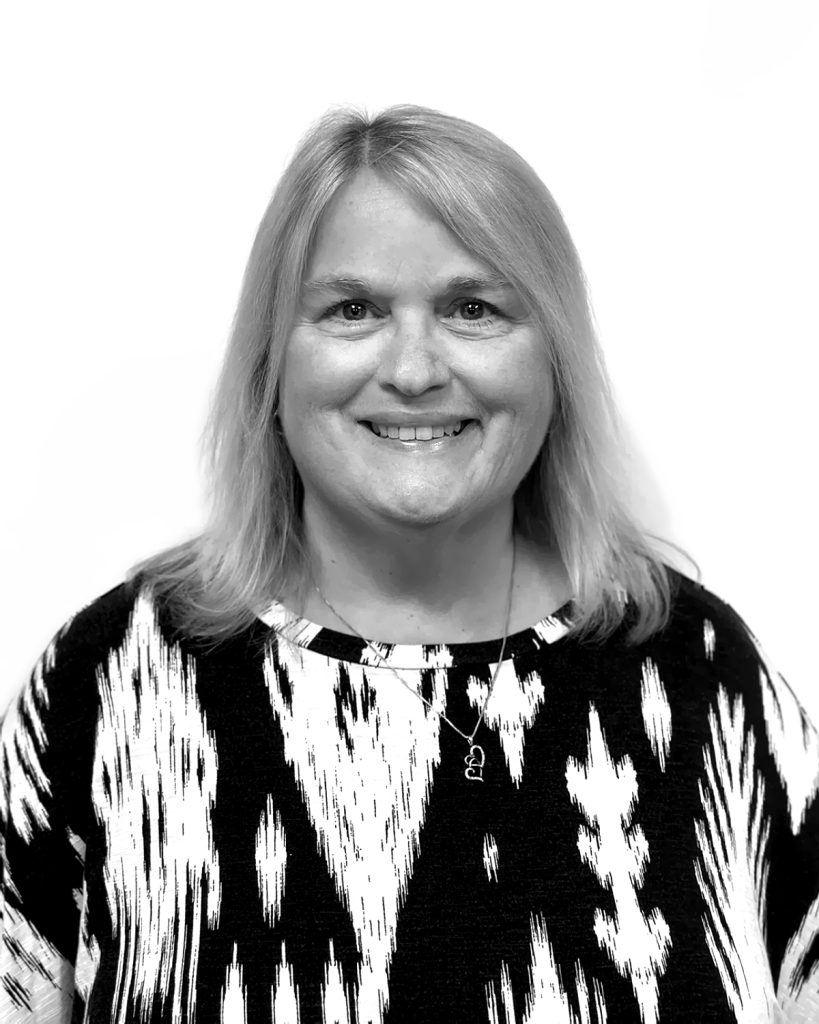 Becky Taylor
Account Manager
Is it possible to take the Texas out of a girl? Becky Taylor isn't certain. Growing up and attending college in The Lone Star State teaches you to keep thinking large scale. Sure, Becky crossed the Gulf to become a 10th-grade English teacher on Florida's East Coast, but with a star forever twinklin' in her eye, she eventually moved into real estate where the sales are as big as the Texas sky. OnSight welcomed Becky to its sales team in early 2020. When she's not russlin' up a deal with land developers, you'll find her in her backyard gardening or in her kitchen posting IG photos of healthy meals.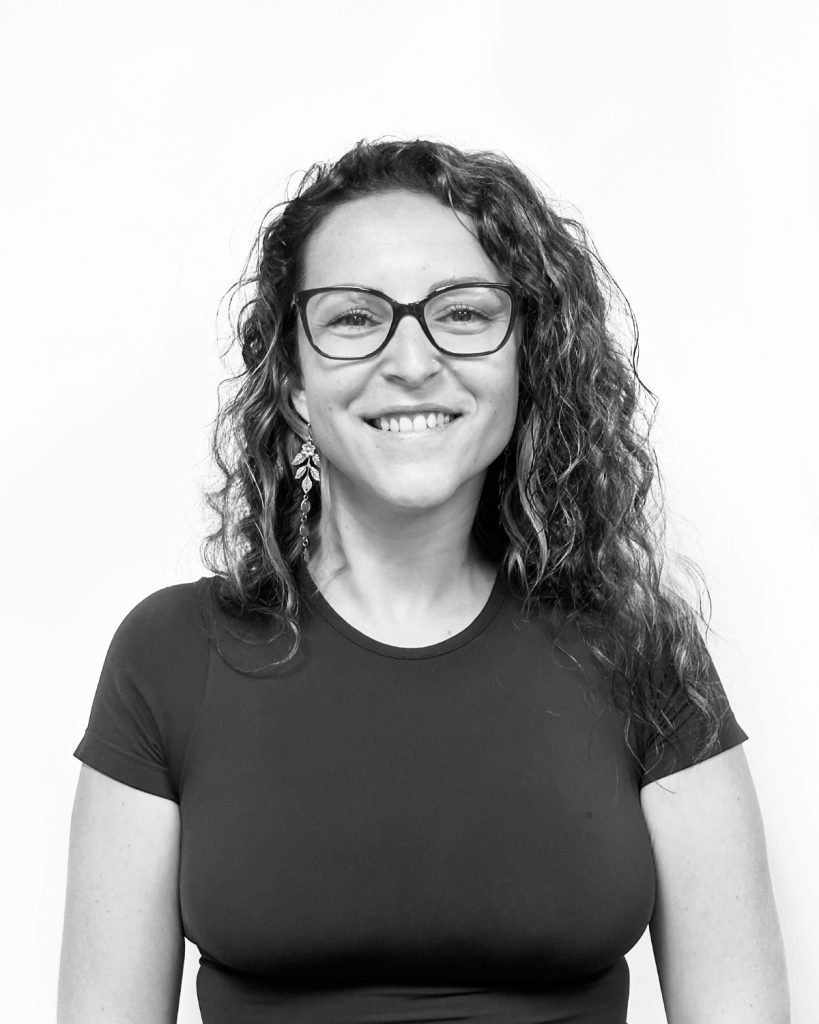 Kat Kirpicheva
New Business Development
Kat is a Muscovite who dreamed of being an astronaut. She touched down at Samara's Aerospace University where she studied Economics and Management. After landing in The States in the early aughts, Kat spent T- 8 years working in the trade show and graphics business before achieving liftoff with OnSight in New Business Development. Being a Foodie and travel junkie keeps her in full exploration mode while repeating her mantra: "Keep smiling, because life is a beautiful thing and there's so much to smile about." It's not rocket science, folks!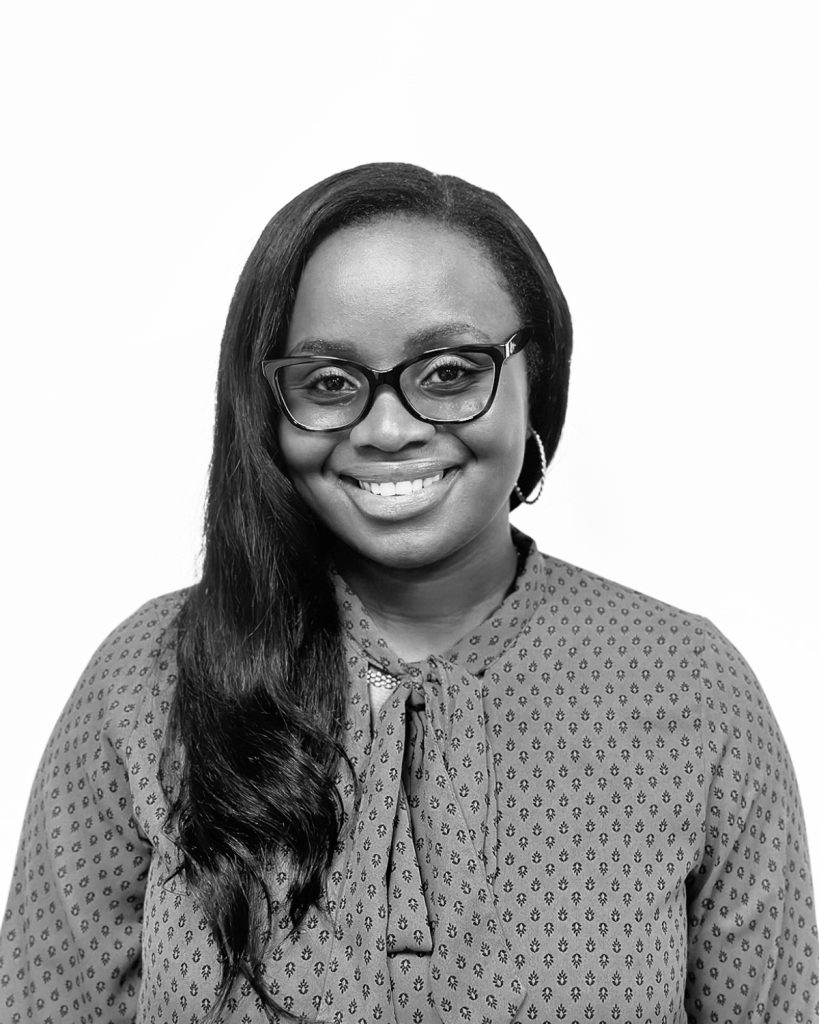 Nikita Ambersley
New Business Development
Ya mon, Nikita comes from the land of reggae and has a built-in affinity for dancehall music. Currently she's a student at Western Governors University where she's studying Business Management, and she has a natural inner luv for her clients that makes them gravitate toward her energy and responsiveness – ah good! When she's not traveling and spending time with her family, she's busy posting foodie pics to her IG. Coo deh.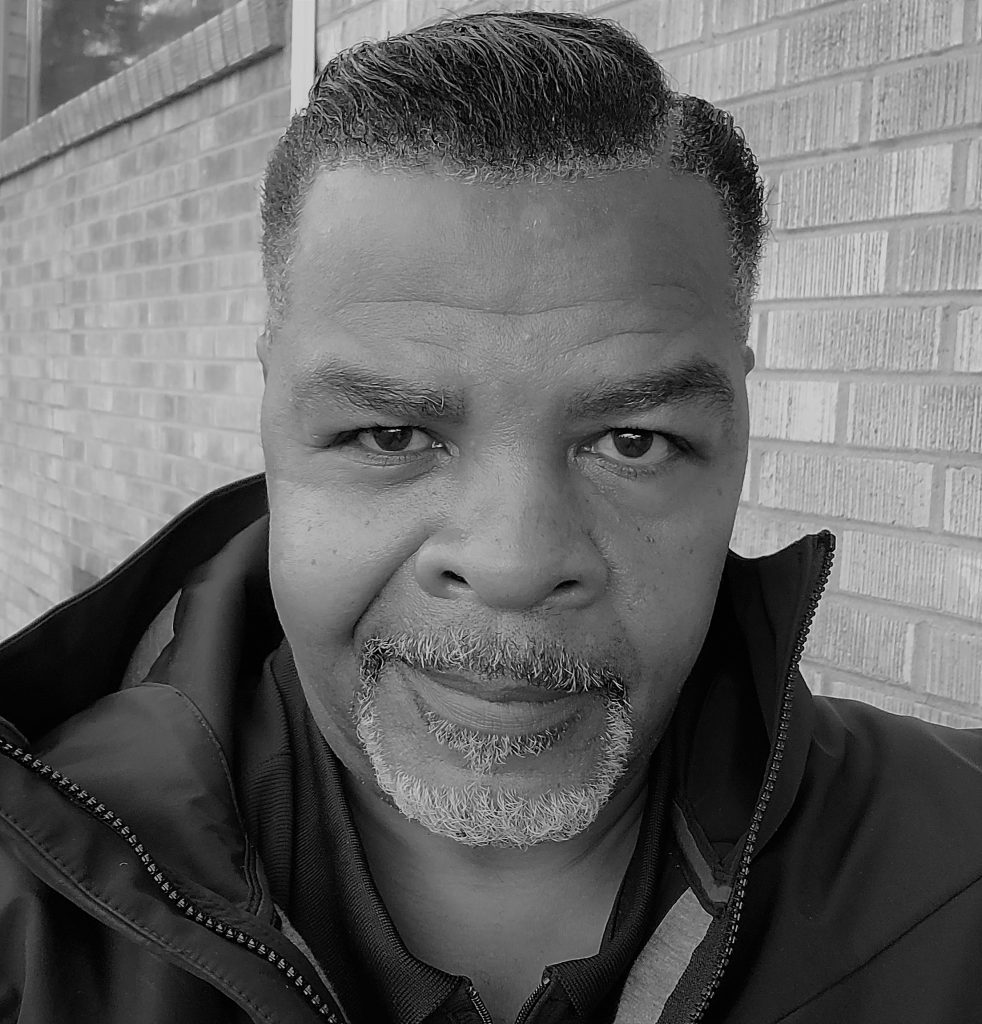 Alexzander Cook
New Business Development
Alex is a self-proclaimed eternal student who studied pre-medical Psychology at Oral Roberts University. Before arriving at Onsight Industries, he worked in Technology Sales for companies of the disrupter type. At these organizations, he developed a penchant for anticipating the daily impact of technology in ways that were not widely observed, allowing him to co-create family-focused applications used by 6 NFL Franchises. Alex is a die-hard Steelers fan who enjoys keeping tabs on his team in his spare time.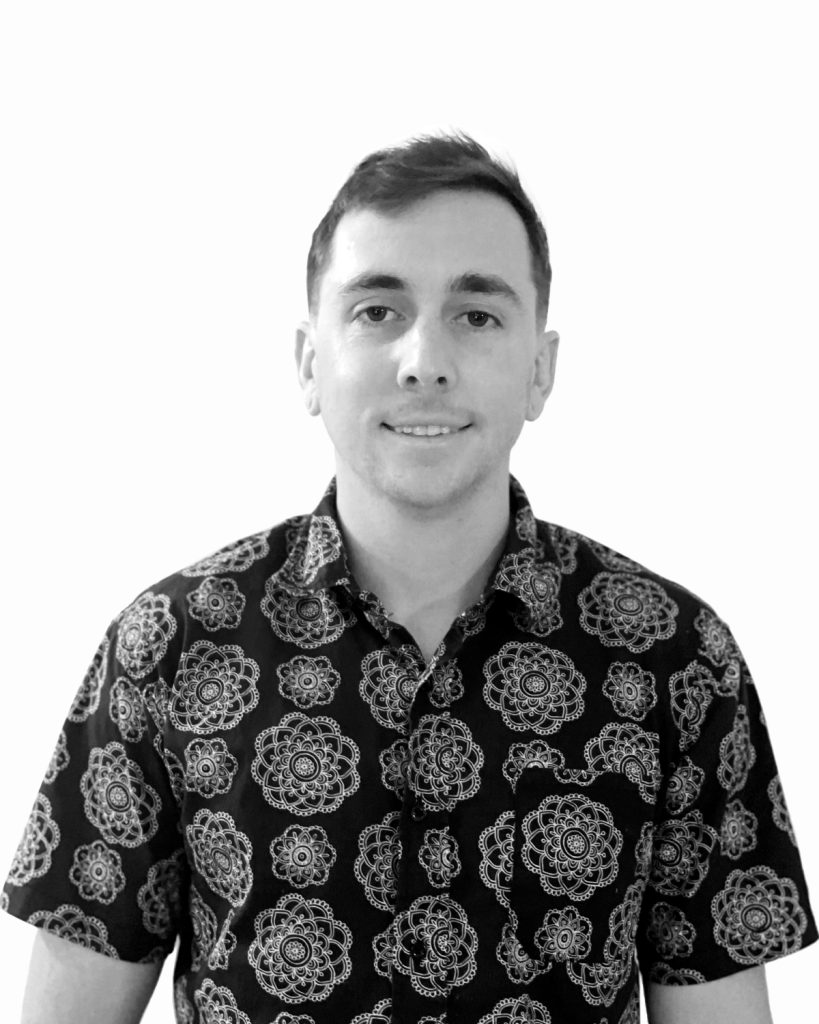 Lee Kennerly
New Business Development
A native Floridian born near the sea in Northeast Florida, Lee spent his free time surfing. He moved to Central Florida in 2007, where he discovered a new challenging sport, golf.  His love for the sport led to a job with the University of Central Florida golf team and as a field painter for the NFL and NCAA. He started his career as a teen working part-time in the weekend services department.  After starting a family, Lee returned full-time to OnSight, where he worked in installation, digital production, and routing before embarking on his role in sales.  His experience in other departments gives him firsthand knowledge of OnSight's products. He feels honored to work directly with OnSight's clients to provide product knowledge and solutions to their marketing and land needs.  In Lee's free time, he enjoys spending time with his family, golfing, boating, fishing, and his guilty pleasure of wasting money on his saltwater aquarium.